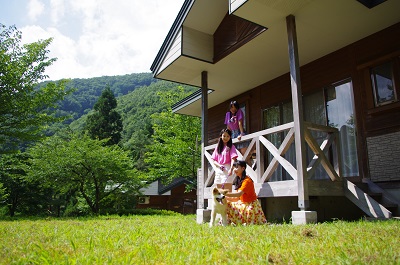 Address
Location 5 Okuzo Kanayama Sawaguchi, Hinaimachi, Odate City
It is a natural park surrounded by nature, located 20 minutes away by car from Premier Hinai. Besides large combined playground equipment such as slides, sky ropes, swings, athletics, there are multipurpose plaza, stage, campsite, cooking building, campfire and toilet in the park where you can enjoy the outdoor life while feeling nature fully.
 The main part of the nature park is that there are 6 cottages made of wood. Each cottage can be used by a group of up to 6 people. It is equipped with living room, bedroom, shower room, toilet, kitchen, refrigerator, gas appliances and air conditioner. You can bring your food and enjoy the time together with your dog.
 There is Okuzo Hot Spring nearby, where the water directly flows from the source. You can refresh your body and your mind by soaking in this hot  Spring.