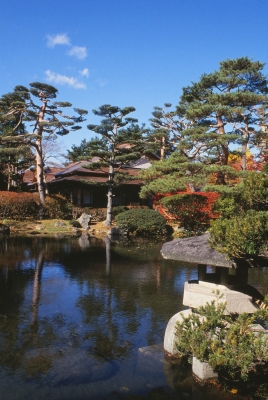 Torigata Kaikan Hall Overview
Name
Torigata Kaikan Hall
History
The history of the Torikata family dates back to the early 1600's. They held the position of Kimoiri (village mayor) from generation to generation.
The 17th headman, Dr. Riuso Torikata did an extension and structural alteration of building and garden with a Kyoto style design in it.
Approximately five years were spent for the reconstruction and it was done by more than one thousand carpenters and plasterers from Kyoto.
As for its gardening, gardeners were invited from Kyoto. The garden stones called Kurama-Ishi from Kyoto were used. The Kyoto style garden and the building are said to be one of the important cultural properties from Tohoku Area.
In 1951, Torigata Kaikan Hall was donated to Hanaoka town and after merging into Odate city, it was opened to public.
On 22nd March 2011, the building was designated to "prefectural cultural property" and the garden was designated to "prefectural scenic beauty".
Visit and Guide
Visiting the Torigata Kaikan Hall is free of charge. If you want a guide to introduce and to explain the buildings and the garden,please ask at the reception.
The house of the Former Torikata family:
The house was under reconstruction in 1936. The reconstruction took place after the former main house was moved entirely without deconstruction.
While they kept some essence of the original style, the new Kyoto style design was added and it was seen here and there inside the building. A tea room was set up upstairs.
According to a note remaining in Torikata family, Kentaro Nariyuki who was playing active part in Kyoto had contributed in reconstruction as a master builder.
Selected fine Yaku cedar wood is used on the ceiling of the rooms. There is an earth floor and a kitchen in the west part of the house and below that there is a basement. In the upperpart of the earth floor, a truss structure can be seen.
Floor area: 791m² Ridge direction: 39.0m Span: 17.3m
Click the photo and it will enlarge.
Information map of the building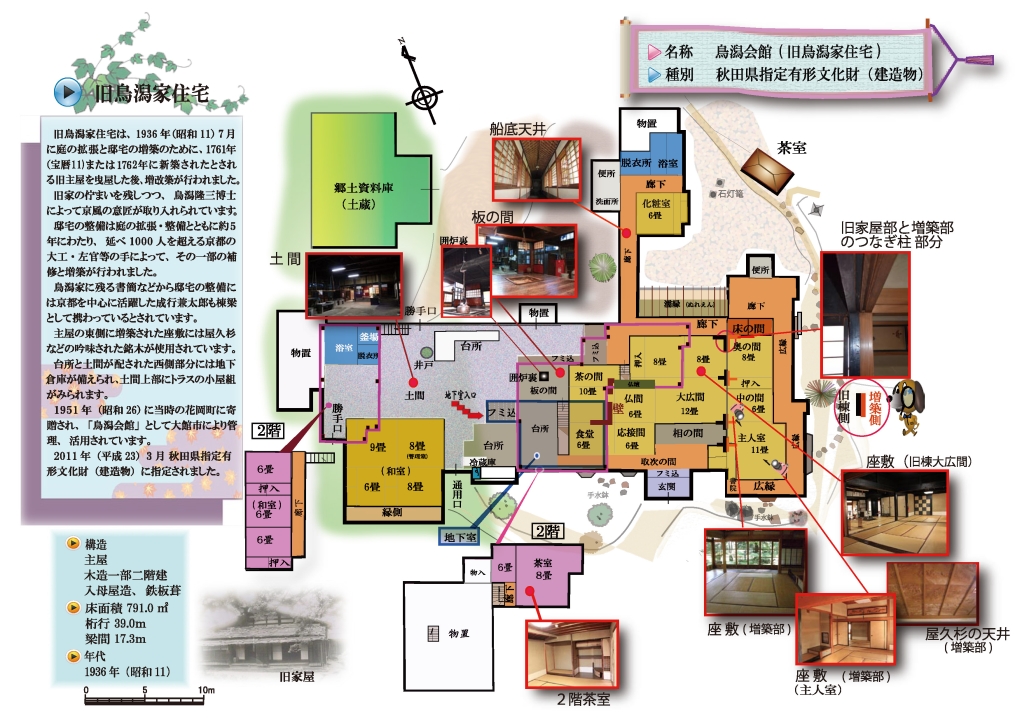 Click and it will enlarge
Introduction video
The Garden of the Former Torikata Family's House
The Torikata family's garden was maintained and expanded in 1936 along with their reconstruction of their house. It was well planned and calculated by having the pond as its centre. Also this garden with Kyoto style rock arrangement represents the Akita prefecture's garden style.
Dr. Riuso was collecting good quality material from all over Japan for the garden. Especially, one of the good examples is Kyoto's Kurama-Ishi which marks over 3 metre in size that is used as 'Kutsunugi-Ishi' (a flat stone where one can take their shoe off before entering a building) in the eastern edge of the main building.
Other than the front and middle gates, there is also a thatch roofed Soan teahouse, Chashitu-Machiai (waiting room), Azumaya (small arbor) and a shrine in the inner teahouse garden.
The garden never bores the visitors because it changes it appearance every season; in spring, the azaleas bloom; in summer, the strong chorus of cicadas; in autumn, the reddening leaves; and in winter, the snowy scenery awaits everyone. Please stop by as it provides a space to take a break.
The size of garden: 8191m² The size of pond: 377m²
Click on the photo and it'll enlarge.
Garden's Guide Map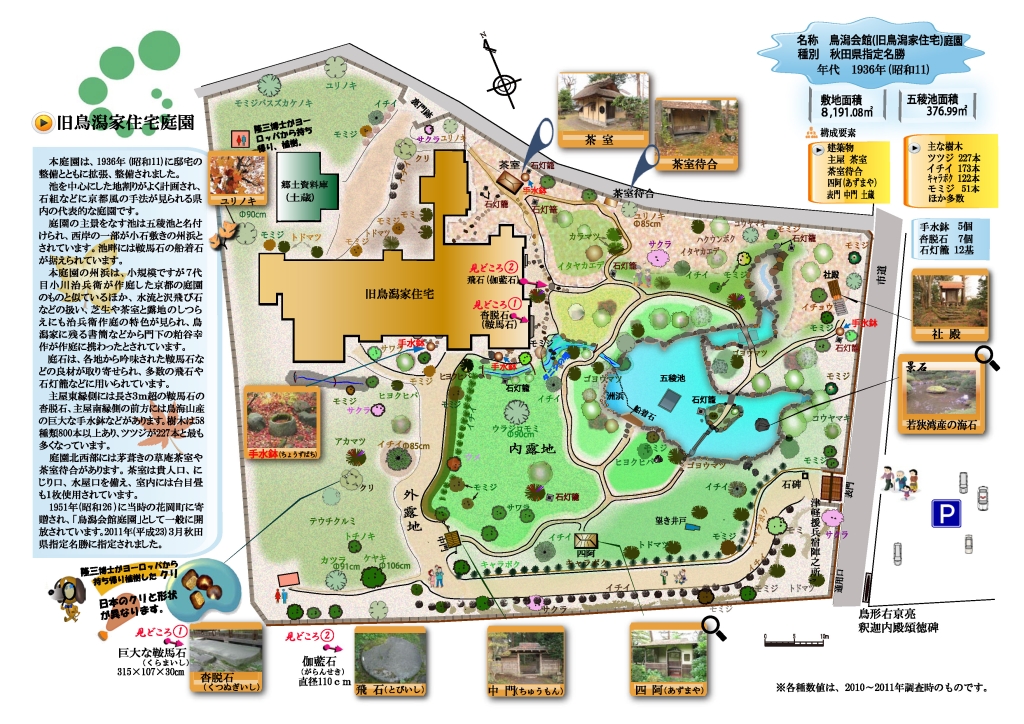 Click on it and it will enlarge.
Introduction video
The people from Torikata famliy
鳥潟 隆三 Torikata, Riuso– (he contributed a lot to the Japanese surgical medical world)


Born in Hakodate, Hokkaido. (1877-1952)
A medical doctor, a professor emeritus of Kyoto Imperial University and the ex-chairman of Japanese surgical society.
He was transferred from Hakodate's elementary school in Hokkaido to Oita in Kyushu. And he proceeded to Oita junior high school and Daiichi high school in Tokyo(in old Japanese educational system). He was advised by Kokichi Kano and enrolled to the Kyoto Imperial University. In 1994, he was honoured and awarded an Imperial prize of a silver watch.
In 1912, he studied abroad such as the Bern University in Switzerland. He did a research on Serum bacteriology and he advocated the Impedin theory.
As he returned to Japan, he established a Torikata immune research institute and an affiliated hospital. He invented the external medicine "Koktigen". Furthermore, in1925, he improved Japanese surgical operation by advocating the normal pressure thoracotomy and worked as a leader of Japan Surgical Society.
He had a lot of affection for his hometown. Therefore, he sent Vaccine from Osaka when Typhoid fever started to go around in his hometown.
鳥潟 右一 Torikata, Wichi -(He was the inventor of the radiotelephone)


Born in Hanaoka, Odate(1883-1923)
A doctor of engineering
He transferred from Hanaoka elementary school to Oita. He proceeded to Oita junior high school, Kaisei junior high school in Tokyo and Daiichi high school. Then, he majored in electrical engineering in the Tokyo Imperial University and he graduated with the highest grades and was awarded and given an Imperial prize of a silver watch.
After graduation, he joined the electrical experimental station and began to investigate and study the natural ore. He collected the sample from his hometown Hanaoka, Kosaka and Osarizawa mine. And as a result, he invented a crystal detector when he was 26 and extended the radio communication range from several tens of kilometres to one thousand kilometres.
In 1909, he studied abroad in the UK and the US. When he returned to Japan he invented TYK-type radiotelephony sets at the age of 29 and succeeded to transmit human's voice by radio for the first time in the world. In 1914, it was taken into practice in Toba city in Mie prefecture and in 1915 it was practiced between Tokyo and Shanghai which was successful.
Wichi also did a lot of inventions of electric appliances and medical appliances.
At the age 38, he became the head of electric experimental station of Ministry of Communication. However, he died at the age of 40 and deserved the second Class Order of the Sacred Treasure.
He loved his hometown. So he supported people who suffered from smoke pollution when it occurred in Hanaoka mine.
鳥潟 小三吉 Torikata, Kosankichi -Worldly famous acrobat


Born in Hanaoka, Odate(1842-1909)
He went to Edo in 1848 and later he moved to Osaka to train himself to be an acrobat. In 1886, he was invited from a foreign circus troupe and moved to UK.Kozankichi formed his own circus called "Torikata troupe" and he did tours across Europe. While having a tour in Germany, he married a German lady who was the daughter of a judiciary.
And she joined his circus and showed the audience her dancing of a butterfly and amazed them. In 1876, they returned to Japan and gained popularity from all over the country. He revisited Europe in 1882 and became an international acrobat. He was invited by the German Emperor to show his acrobatic skills in the Court and was given a commemorative medal.
In 1890, he came back to his home in Hanaoka. And he built a European style building which was not so common at that time.
Reference room attached to Torigata Kaikan Hall
The storehouse of Torikata family was refurbished. On the ground floor, there are many things displayed, such as the relics of Riuso, Wichi and Kosankichi or the sources of the early modern times of Hanaoka which are related to Torikata family. On the first floor, Hanaoka's folk culture sources are displayed.
Introduction video
Tour and Usage Guide
Summary of facilities
Ohiroma, The Hall. (4 Japanese style rooms, 42 tatami mat)
Japanese style room (17 tatami mat, 11 tatami mat, 8 tatami mat, 6 tatami mat)
Others (Garden, Azumaya (small arbor), Tea Room, Reference room/Source storage room)
*(tatami mat size: 1.89m x 0.945 m)
Tour (Free)
Time Schedule
9:00-17:00 1st April – 31st October
9:00-16:00 1st November – 31st March
You can rent the room for tea ceremonies or for meetings. Any concerns about the fee please contact us.
Closed Dates
Every Monday (if national holiday, it is open but closed the next day)
The end and the beginning of the year, 29th December – 3rd January.
Request
Torigata Kaikan Hall 0186(46)1009 +81 186 46 1009(from overseas)
Access
Shuhoku Bus
From Odate Station to Hanaoka Hongo (20-30 mins)
Car
Please use the parking area in front of the Torigata kaikan.
It is also available for large-sized buses/coaches