Schedule:  Every year on 11th August
Venue:  Nagakigawa Riverbed Firework Venue
Enquiries:
Office of Odate Daimonji Matsuri Executive Committee Office: 0186-42-4360
Main office on the day: 090-6623-7671
Travellers using Odate Station on the day: Odate Tourism Office 0186-57-8120 
Event Introduction
Odate Daimonji Matsuri is Odate's seasonal event is held  in the evening.
When the sun starts to set, the fireworks are set off by the Nagaki River.
At the same time, the character '大' is lit up on the Houou Mountain which is located in the east of the city. This is to pray for the development of Odate city.
---
Updates on Daimonji Masturi!!
Odate Daimonji Matsuri Executive Committee Facebook Page

---
What is 'Daimonji'?
《 A short story 》
Japan's biggest and beautiful Odate's 'Daimonji'.
The first stroke is 120m, the second stroke is 180m, and the third stroke is 150m long.
It is written on a steep slope on a mountain that makes the character '大' looks beautiful from the ground level.
Others… Daimonji Matsuri trivia.
Houou Mountain, Daimonji-yaki(大 fire light up) and firework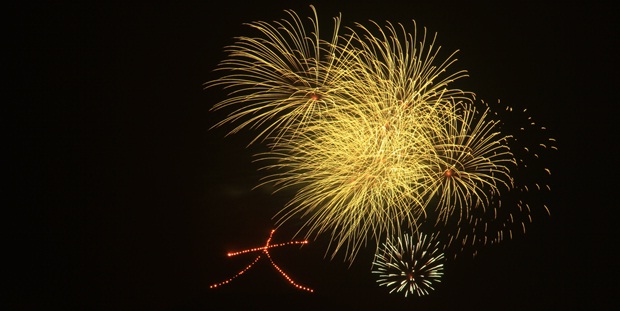 At night, Daimonji Matsuri reach its climax.
Japan's biggest 'Daimonji' is lit up, and many fireworks are set off and it colours the midsummers' night sky.
Thank you very much for those who have sponsored Daimonji Matsuri event and firework.
Daimonji-yaki
Fireworks